Why not start your Bristol weekend break one day earlier? Bristol is a fun-filled vibrant city with lots to do for family and friends! A very popular destination for a weekend break away for many people. Start your weekend on a Friday and tick off your Bristol weekend breaks bucket list. Squeeze in the historic landmarks, cool things to do, tasty street food and spot the street art that has made Bristol world-renowned.
Friday:
St Nicholas Markets (breakfast, brunch, lunch)
Start your Saturday on your Bristol weekend away by visiting St Nicholas Markets. Ideal to grab some breakfast, brunch, lunch, or just quick nibbles! The most popular ones are St Nicholas Markets, offering many quirky stalls, street food and historic architecture to explore from. Pop over the raw food-juicing  , and grab their popular Breakfast yoghurt smoothie! The markets here have been trading since 1743, and is Bristol's largest collection of independent retailers. Did you know that St Nicholas Markets was named Britain's Best Large Indoor Market in 2016?
A 5-minute journey by walk from Cleyro Serviced Apartments to St Nicholas Markets.
 (image: BristolPost.co.uk)
Bristol Cathedral (late morning)
With breakfast enjoyed, head over to Bristol Cathedral. Take a gentle walk around the beautiful historic architecture of the Cathedral and ease into the rest of the day. Bristol is home to this Cathedral for over a thousand years, and is free to visit by the public and is open throughout 365 days a year.
Timings:
8am - 5pm Monday to Saturday, (wish to attend Choral Evensong or Evening Prayer at 5.15pm)
8am - 3.15pm Saturday and Sunday, (wish to attend Choral Evensong at 3.30pm)
A 9-minute journey by walk from St Nicholas Markets to Bristol Cathedral.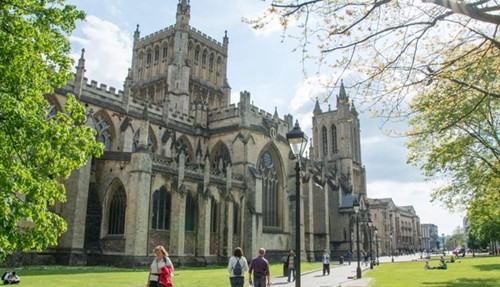 (image: VisitBristol.co.uk)
The SS and Being Brunel Museum (midday)
Next, head over to the Being Brunel Museum, which is only a 6 min car journey, or 10 min walk with a ferry ride, which is a treat. The Being Brunel Museum offers the public to see and experience the iconic engineer Isambard Kingdom Brunel, along with quirky activities to do and fun for kids. This museum delves into the life and work of one of Britain's greatest engineers with displays, exhibits and interactive experiences.
A 0.5 mile distance by walk (including a ferry ride) from Bristol Cathedral to The SS and Being Brunel Museum.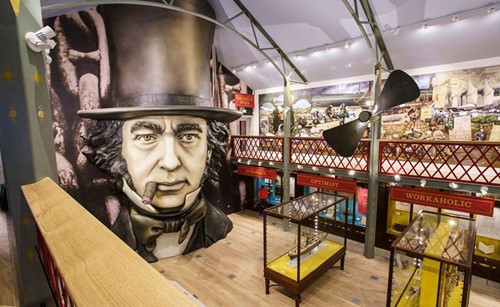 (image: VisitBristol.co.uk)
Chance and Counters (chill time/lunch)
To have a real laugh, head over to a Chance and Counters, a place where playing board games is the purpose of this café!  Be spoilt for choice on board games with over 850 games, offering popular games like Connect4, Cards against humanity & Articulate. Taking real pride in their food and drink too, from their rotating craft beers and ciders to their locally sourced food menu. Undoubtedly this place is worth a visit on your Bristol weekend break.
A 0.8 mile distance from The SS and Being Brunel Museum to Chance and Counters.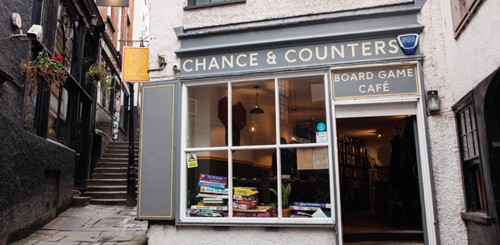 (image: ChanceandCounters.com)
Bristol Street Art – tours (afternoon)
Something to make it to your Instagram feed. Take a tour around the street art of Bristol, you'll be surprised at the cutting edge graffiti art decorated over the city walls. Where you can expect to find the street art is along narrow alley ways, down side-streets, across building walls, and large spaced exposed bridges. The Bristol Street Art represents humor and pop-culture.  The most popular street art location is Banksy's Well Hung Lover on Frogmore Street. Search for Bristol Street Art across the map. There are also Bristol street art tours available such as WhereTheWall and other activities.
A 6-minute journey by walk from Chance and Counters to Banksy's Well Hung Lover on Frogmore Street.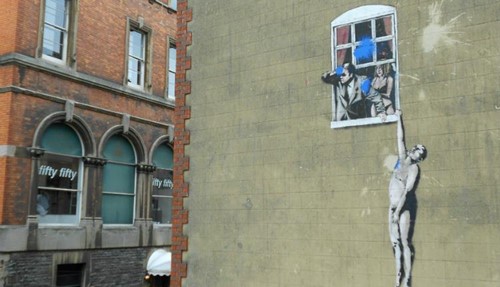 (image: VisitBristol.co.uk)
Wapping Wharf (evening/dinner/entertainment)
A perfect way to end your night is by visiting Wapping Wharf, ideal for some evening shopping and a relaxing dinner meal. Explore and enjoy shopping, eating and chilling-out in between. A popular place for the local Bristolians and visitors. Wapping Wharf is home to many trendy independent bars, restaurants and cafes. Bandook, one of the populars, offering modern Indian eatery offering famed Grandma's curry and somosa chaat to new additions of Indian tacos and sliders!
A 0.7 mile distance from Banksy's Well Hung Lover on Frogmore Street to Wapping Wharf.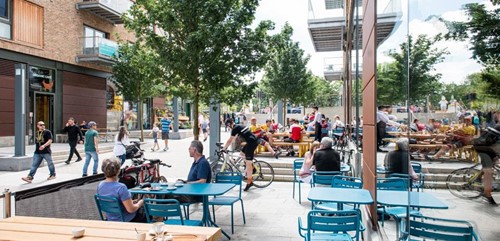 (image: VisitBristol.co.uk)
Saturday:
Spicer & Cole (breakfast/brunch)
Start your Saturday with some tasty Instagram-worthy breakfast and coffee! Spicer & Cole offer super-fresh seasonal food made from scratch, along with the best artesian coffee and loose-leaf tea. Their homemade granola bowl or avocado toast is worth trying. The independent café is located in four locations in Bristol.
A 0.4 mile distance from Cleyro Serviced Apartments to Spicer & Cole.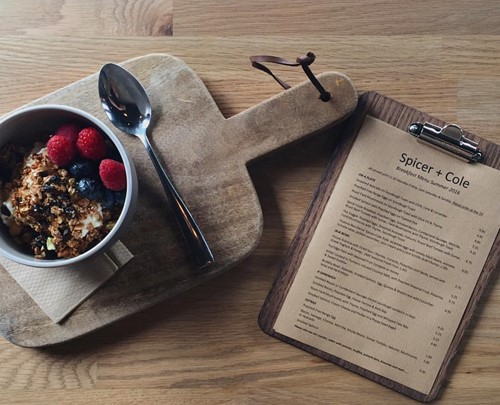 (image: facebook.com/spicerandcole)
Boat ride around Bristol Harbourside (afternoon)
The best way to view the Floating Harbour and Harbourside is by a boat ride. Bristol's Harbourside is an attraction that has become popular over the years, with modern development filled with restaurants, bars, shops and hotels. If you are interested in overseeing the Harbourside via a boat ride, many companies in Bristol offer this service. Bristol Ferry Boats and Number Seven Boat Trips, offer scheduled ferry services, which you are able to get on to get to A to B easily. Bristol Ferry Boats offer longer themed tours in the spring and summer seasons. Bristol Packet Boats offers different tours, along with afternoon tea and lunch trips.
An 8-minute journey by walk from Spicer & Cole to Bristol Harbourside.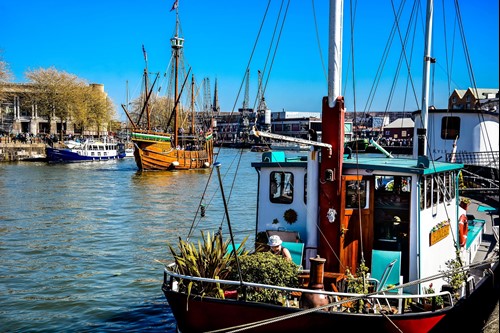 Smoke & Mirrors – Magician Bar (evening)
If you are looking for a unique night out on your Bristol weekend breaks, Smoke & Mirrors bar is a place to go for drinks at night. A cool magic bar located in the city's theatre district, perfect for an entertainment-filled night out. You can expect comedy and magic shows, along with food and drinks being served.  Order the favourite Spicy Italian pizza with nachos!
A 4-minute journey by walk from Bristol Harbourside to Smoke & Mirrors.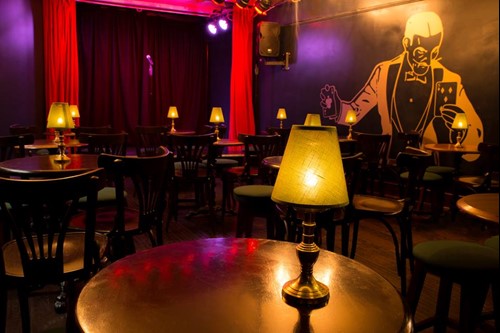 (image: designmynight.com)
Sunday:
The Ivy Clifton Brasserie (breakfast)
Dine into Sunday breakfast at The Ivy Clifton Brasserie, in the heart of Clifton village. Offering fantastic mix of modern British comfort food and international dishes. Order the popular The Full Iyy English Breakfast including smoked streaky bacon, Cumberland herbed sausage, fried eggs, black pudding, roast plum tomatoes, grilled flat mushroom and baked beans costing at £13.75. Breakfast is typically served 9am – 11am on Sundays. This place is only 4 min car journey away from Clifton Suspension Bridge, or if you prefer walking it is approximately 12-14 minutes.
A 1.6 mile distance from Cleyro Serviced Apartments to The Ivy Clifton Brasserie.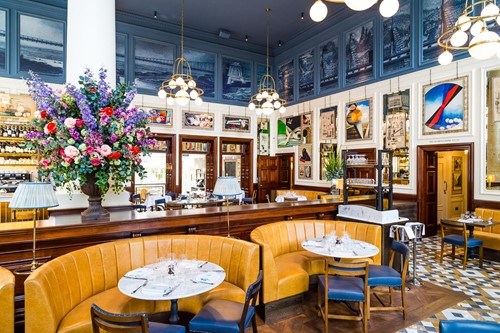 (image: theivycliftonbrasserie.com)
Clifton Suspension Bridge (after breakfast)
One of the world's greatest bridges, the Clifton Suspension Bridge. This bridge is symbolic to the city Bristol for around 150 years, and has attracted visitors around the world. Be sure to grab a coffee and bite from Chapter & Holmes. A lovely coffee-cart situated on the North Somerset side of the bridge, offering organic tea, ethical coffee and fresh cakes. The entrance to visit the bridge is free for all and is open 10am – 5pm daily throughout the year except on Christmas Eve and Christmas Day.
A 0.5 distance by walk from The Ivy Clifton Brasserie to Clifton Suspension Bridge.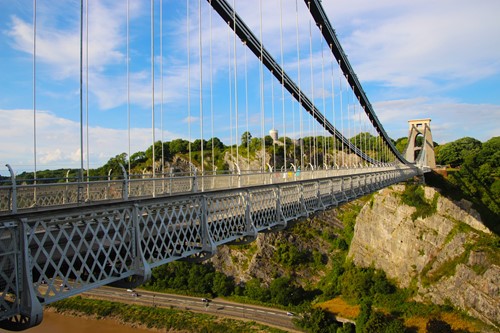 Playground Coffee House (lunch/coffee break)
Have you ever tried drinking coffee and eating whilst swinging at the same time indoors? Well you can try it now at Playground Coffee House, a 'sip coffee an indoor swing' coffee house. This place definitely shouts out unique, with its specialty coffee scene in Bristol. What is not exciting about indoor swing seats? They also offer a free board game library, loose leaf tea selections, and amazing fresh home-made bakery. This place should be a priority to visit on your Bristol weekend breaks.
A 1.9 mile distance from Clifton Suspension Bridge to Playground Coffee House.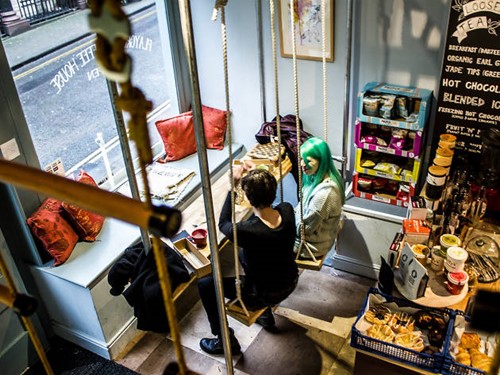 (image: timeout.com)
Puzzlair Escape Room (late afternoon/evening)
If you enjoy getting your adrenalin levels racing, this place is for you! Puzzlair is a real life 4D escape game, where two to five group of people have 60 minutes to try solve puzzles to escape the room. This place is the best live escape game in Bristol, so is definitely worth visiting if you want to hear your pulse racing. To solve the puzzles, every key and code is inside the room, so in order to get a great experience out of this, team work and communication is key to escape the rooms! Book now.
A 0.9 mile distance from Playground Coffee House to Puzzlair Escape Room.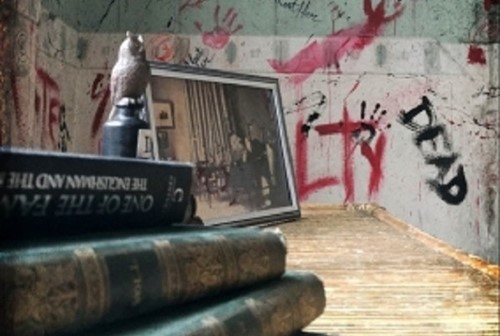 (image: worldofescapes.co.uk) 
L'Osteria (dinner)
To end your perfectly planned Bristol weekend away, end the night with some amazing Italian for dinner. If you are pizza lovers, then look no further. Serving traditional Italian recipes on the menu, from sharing large pizzas between 2-4 people to pasta dishes, there is something available for everyone. Indulge in their Pizza Con Nutella, a Nutella pizza with banana and mixed fruit! L'Osteria are proud to be serving ''the best pizza in the city of Bristol'', so this place should definitely be on your list of things to do.
A 0.7 mile distance from Puzzlair Escape Room to L'Osteria.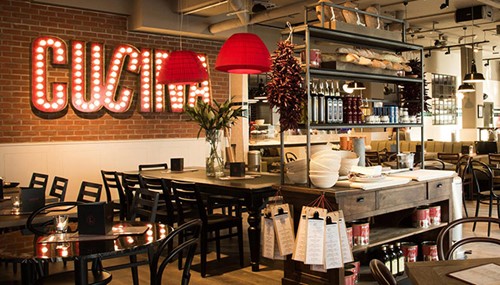 (image: losteria.net)
---
Handy travel tips:
To make the most out of your Bristol weekend breaks, arrive early by arriving on a Friday afternoon. This will allow you to make more time for places to visit. Be organized and prepare any particular restaurants you would like to visit by making reservations in advance, this is because it can be busy over the weekend period. Be prepared to travel to Bristol, as well as within by walking, cycling, ferry, bus and local trains, as it is more accessible to get to places from A to B within the city. If you are driving here, there are available parking areas around our apartments.